Hola a todo el mundo,

Como sabéis, Agosto es normalmente las fechas cuando os pedimos ese montón de dinero por las suscripciones para que podáis permanecer en la lista. Bien, os gustará saber que este año no vamos a pediros que paguéis nada. Por supuesto, cuando hay una pega, sabéis que es? Exacto, no vamos a enviar ninguna carta durante un tiempo! Aquellos que lleváis un tiempo en la lista recordaréis que hicimos algo parecido cuando la gira del Brothers in Arms acabó, cuando las cosas estaban tranquilas y no habían muchas noticias.

La situación aquí es la siguiente: Mark y John están de vacaciones durante lo que queda de año. Todos los otros músicos siguen haciendo cosas propias suyas. El manager de la banda Ed Bicknell y su socio Paul Cummings quieren coger las vacaciones hasta finales de año tanto como les sea posible, y estarán en la oficina sólo de vez en cuando. La oficina funcionará con un equipo de "emergencias" (el contable y yo) y nos ocuparemos de todo lo que entre.

Esto significa que hasta principios del año que viene, y posiblemente hasta después de primavera no habrá nada para informaros. No queremos que paguéis "dinero para nada", con lo que no habrán suscripciones. Nos quedamos con todos los nombres y direcciones en el ordenador, y tan pronto como hayan noticias, os enviaremos una carta gratis con un formulario para suscribirse si queréis recibir más cartas. No puedo deciros definitivamente cuando será, depende todo de MK y lo que querrá hacer el año que viene. Mientras tanto, simplemente escribirme si os cambiáis de casa para que tenga vuestros datos actualizados.

OK, una cosa dicha. No preocuparos, no nos olvidaremos de vosotros! Ahora, las poquitas cosas que han estado pasando o van a pasar en un futuro cercano.

ALBUM DE BANDAS SONORAS DE MK

Este es una recopilación de "lo mejor de" las bandas sonoras de Mark Knopfler (Local Hero, Cal, Princess Bride y Last Exit to Brooklyn). El album saldrá en todo el mundo el 4 de Octubre, excepto en USA donde saldrá el 12. La lista de canciones es la siguiente:

De Cal: Irish Boy, Irish Love, Father and Son, Potato Picking, The Long Road

De Last Exit to Brooklyn: A love Idea, Victims, Finale.

De The Princess Bride: Story Book Love, Morning Ride, The Friend´s song, Guide my sword, A Happy Ending.

De Local Hero: Wild Theme, Boomtown, The Mist Covered Mountains, Smooching, Going Home.

Sera precedido por un single (basicamente porque necesitamos algo para las estaciones de radio para promocionar el album!). El single tendrá tres canciones: Going Home, Comfort (de Comfort and Joy) y Wild Theme (en directo, del Encores).


CONCIERTO DE LEEDS

Sé que muchos de vosotros seguisteis la información de la carta de Junio y fuisteis a ver a Mark en ese pequeño concierto en Leeds Town & Country Club el 3 de Julio con los Hillbillies Brendan y Steve. Algunos miembros de DSIS incluso volaron de otras ciudades europeas y otros simplemente estaban de vacaciones en el Reino Unido en esos momentos y consiguieron ir. De cualquier modo, todo el mundo se lo pasó genial y aunque el concierto fue brillante (aunque sin haber ensayado mucho) Mark disfrutó mucho y le encantó el ambiente.

CONCIERTO NEWCASTLE

Por supuesto, justo después de haber llevado todas las cartas a Correos, Mark me llamó y me dijo que había decidido hacer otro concierto en Newcastle el6 de Julio. Con lo que hice una nota especial a los fans del noreste de Inglaterra para comunicarles que podían comprar las entradas para ese concierto. El show fue benéfico para el Swan Hunter Shipyard, para conseguir dinero para los trabajadores del astillero que fueron despedidos sin compensación y habían otras bandas incluyendo Lindisfarne (el evento fue organizado por Ray Laidlaw de Lindisfarne). Fue prácticamente la alineación original de los Hillbillies, porque Marcus Cliffe tocó el bajo, y el manager de DS Ed Bicknell tocó la batería. Alan Clark tomó el puesto de Guy Fletcher (ya que Guy estaba en California) y obviamente no íbamos a traer a Paul Franklin desde Nashville sólo para dar un concierto (gratis!!).

Veréis que he puesto un par de páginas después con información sobre los conciertos, encontraréis recortes de prensa, comentarios, etc. No hay planes ahora mismo para más conciertos de este tipo. Como no habrán cartas informativas próximamente, haremos saber a los fans de la zona si hay algún otro concierto. De cualquier modo, como os he dicho, es muy muy improbable.

A propósito, me acordé del miembro de DSIS Sarah Rowntree. Sarah no vive en el noreste de Inglaterra, y no recibió nuestra notificación especial sobre el show de Newcastle. Pero aún así, lo escuchó por otra fuente y decidió hacer el viaje desde Londres para ver a Mark y los chicos. Como no había recibido nuestra notificación, no sabía a que hora tocarían los Hillbillies (eran la primera banda en tocar). Con lo que, mientras que Mark y los Hillbillies trabajaban en el escenario, Sarah estaba disfrutando de la vista en un pub de Newcastle justo antes de decidir entrar en el local. Fue su intención dar unos pequeños comentarios sobre el concierto para el beneficio de los fans que no estuvieron presentes, así que, aquí está:

FEEL LIKE GOING HOME fue excepcional igual que SETTING ME UP. Un largo camino para escuchar solo dos canciones, pero valió la pena!!!!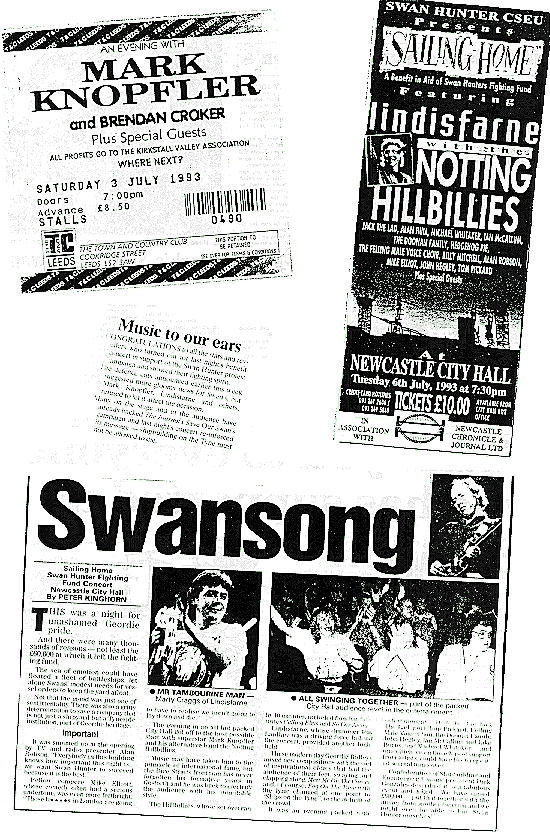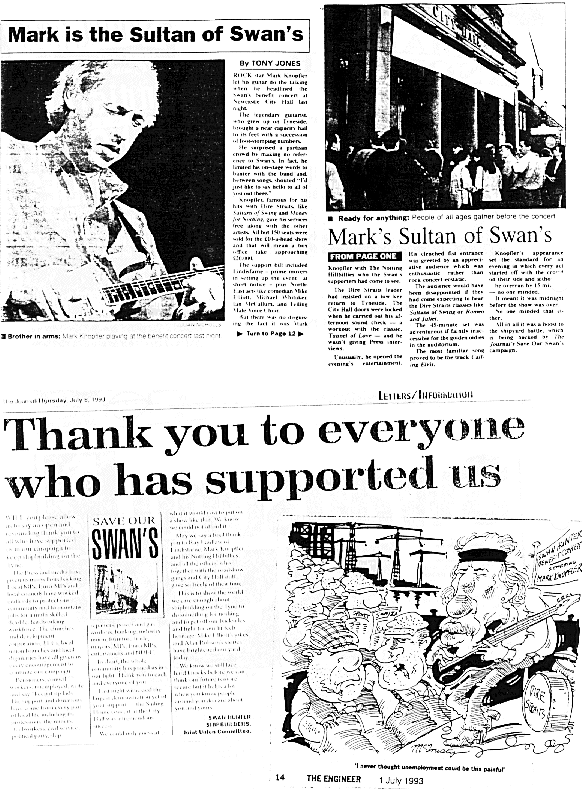 ON THE NIGHT –QUE CANCIONES FUERON GRABADAS DONDE?

Muchos de vosotros habéis hecho esta pregunta. Tengo una lista (ver abajo) que pensamos que es la correcta. El problema está en que tan pronto como acabó la gira, todas las versiones de la misma canción se pusieron juntas en una cinta, y así con cada canción. Con lo que teníamos una cinta entera con Calling Elvis, una cinta entera con Walk of Life, etc etc. Cuando hicimos la selección final del album, sólo Guy tomó nota de que versión se utilizó pero no encuentra la nota!! Con lo que la información viene de la memoria de Guy…

Rotterdam: Calling Elvis, Walk of Life, On Every Street, You and your Friend, Money for Nothing, Brothers in Arms, Solid Rock y Local Hero –Wild Theme.

Nimes: Heavy Fuel, Romeo and Juliet, Private Investigations, Your latest Trick y The Bug.

Guy piensa que quizás Your Latest Trick y On Every Street están al revés, pero la lista es un 95% segura.

ACTUALIZACIÓN DE QUE ESTÁN HACIENDO LOS MIEMBROS DE LA BANDA

Mark está viajando por USA, llamó la semana pasada que estaba en New Orleáns. Se encontró con Paul Franklin en Nashville y tocaron un poquito, pero aparte de eso, la visita fue solo de vacaciones.

John ha estado de vacaciones en Francia, Marruecos, Rusia y en un barco en algún sitio de la costa de Turquía. Está pasando mucho tiempo en su casa en Hampshire y continúa con sus pinturas.

Alan: ya ha reconstruido su estudio en su jardín y ha estado escribiendo canciones. Ha escrito música para dos documentales de televisión: uno de ellos saldrá en Channel 4 en un corto tiempo y va sobre los campeonatos mundiales de Domino en Jamaica. Seguro que muy buena… El otro documental es sobre coches, pero Alan no parece saber mucho de ello excepto que no saldrá hasta finales de 1994.

Chris White: Ahora que tiene su Kawasaki, no hay forma de pararlo. Se ha controlado para no llevar al bebé Alexandar en la moto, debido también a que calló la semana pasada en Edgware Road. Sigue diciendo que ahora que ha caído una vez se siente más seguro. Aún no he entendido esto del todo… Además de aterrorizar Londres con la moto, quiere hacer otro album en solitario.

Phil: está de gira con Pete Townsend, con lo que si hay un concierto en vuestra zona, ir a verlo y saludarlo.

Guy acaba de volver de California. El, Laurie-Ann y Max pasaron todo el verano allí, siendo muy sanos y haciendo mucho windsurf. Está a punto de cambiar de casa y está un poco liado de momento.

Chris Whitten: Acaba de terminar el album con Ian McCullogh y Jonny Marr. No sabe cual será su próximo proyecto.

Paul ha vuelto a su antiguo trabajo en Nashville como Pedal Steel session player!

Danny: ha comprado un piso en Londres, y no tiene teléfono todavía, con lo que no puedo saber que es lo que está haciendo hasta que me llame.

HECHOS Y CIFRAS

Muchos habéis preguntado por este tipo de preguntas, aquí va una selección:
La banda visitón 22 paises en la última gira.
El local más pequeñó fue Bally´s en Las Vegas con 4.600 personas
Y el más grande fue Woburn Abbey con 65.000 personas
Número del personal de la gira: 9 de la banda más 100 personas más entre equipo, oficina, catering…(Deberíais ver las facturas de los hoteles).
Número de camiones: unos 43
Cuánto costó la gira: casi 22 millones de libras esterlinas!

GRABACION DE MARK/HANK MARVIN Y DOCUMENTAL DE TV

No olvidaros de mirar el documental de 40 Años de la Fender Strat el cual saldrá en la TV británica este otoño. De momento, no tengo más detalles. El single que grabaron Mark y Hank como parte del documental sólo saldrá a la venta en el Reino Unido en Polydor Records en Octubre. Será la antigua canción de los Shadows Nivram (Marvin toca de fondo) y Wonderful Land. Todo el beneficio va para Nordoff Robbins Music Therapy.

MAS COSAS INCREIBLES E INTERESANTES

Muchos de vosotros escribisteis diciendo que os gustó la sección de la carta de Junio y si podría hacer lo mismo en cartas futuras. Con lo que aquí os pongo otra pequeña sección y las iré recogiendo para que sea una sección regular.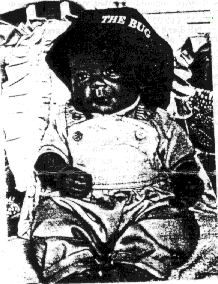 Esta es una foto del miembro más joven de DSIS. Su nombre es Jack Taylor y la foto la mandó su papá Brian.

Y eso es todo por ahora. Siento no poder estar en contacto durante los siguientes meses, pero estoy segura de que sobreviviréis! Gracias a todos que envió tarjetas y regalos para Mark por su cumpleaños. Los tengo todos en una gran caja para que la recoja cuando vuelva a Londres.

Mis mejores deseos
Dear everyone,
As you know, August is usually that time of year when we ask you for huge amounts of subscription money to remain on our mailing list. Well, you'll be pleased to hear that this year we're not going to ask you to pay anything. Of course, little perks like that always have a downside, so guess what that is? That's right, we're not going to send you any newsletters for a while! Those of you who have been on the mailing list for a long time will remember that we did a similar thing after the end of the Brothers In Arms tour, when things were very quiet and there wasn't much news.
The situation here is as follows: Mark and John are both taking the rest of the year off. All the other band musicians have been 'let go' to do their own thing. The band's manager, Ed Bicknell, and his partner Paul Cummins, are both taking the rest of the year as 'off' as possible, and will only be in the office from time to time. The office will be run with a 'skeleton staff' (i.e. myself and the accountant) and we will be taking care of all the day to day stuff that comes in.
This means that until at least the beginning of next year, and possibly even until late spring, there will be virtually nothing to tell you. We don't want to charge 'money for nothing', so no subs are due now. We will keep all names and addresses on the computer, and as soon as we have some news, we will send you a free newsletter, with a request for subs payment if you want to receive further news. I can't tell you definitely when that will be, it really all depends on MK and what he decides to do next year. In the meantime, just write and let me know if you move, so I can keep our records up to date.
OK, that's that out of the way. Don't worry, we won't forget you! Now on to the few things that have been happening, or are going to happen in the near future.
MARK KNOPFLER SCREENPLAYING ALBUM
This is a compilation of the 'best of' Mark's four film soundtrack albums (Local Hero, Cal, Princess Bride and Last Exit To Brooklyn). The album is scheduled for release world-wide on 4th October, except the USA where the date is the 12th. Track listing is as follows:
From Cal: Irish Boy, Irish Love, Father And Son, Potato Picking, The Long Road.
From Last Exit To Brooklyn: A Love Idea, Victims, Finale.
From Princess Bride: Storybook Love, Morning Ride, The Friends' Song, Guide My Sword, A Happy Ending.
From Local Hero: Wild Theme, Boomtown, The Mist Covered Mountains, Smooching, Going Home.
It will be preceded by a single (basically just because we need something for radio stations to play to promote the release of the album!). The single will have three tracks: Going Home, Comfort (from Comfort And Joy), and Wild Theme (live, from the Encores CD).
LEEDS GIG
I know that loads of you followed up the information in the June newsletter, and went off to see Mark play a small gig at Leeds Town & Country Club on 3rd July with fellow Hillbillies Brendan and Steve. Some DSIS members even flew in from Europe specially, and others just happened to be on holiday in the UK at the time so managed to attend. By all accounts, everyone had a fantastic time, and thought the gig was brilliant (if a little unrehearsed!). Mark certainly enjoyed himself, and loved the atmosphere there.
NEWCASTLE GIG
Of course, immediately after I had taken the last load of June newsletters to the post office, Mark phoned me to say he'd decided he was doing another gig in Newcastle on 6th July. So, I did a special 'interim' note to all fans in the northeast of England so they could go and get tickets for that one. That show was a benefit concert for the Swan Hunter Shipyard, to raise money for all the shipyard workers who were laid off with no compensation, and there were several other bands on the bill including Lindisfarne (the event was organised by Ray Laidlaw of Lindisfarne). It was practically the original Hillbillies line-up, because Marcus Cliffe played bass, and DS manager Ed Bicknell played drums. Alan Clark stood in for Guy Fletcher (as Guy was in California) and obviously we couldn't fly Paul Franklin in from Nashville just to do one (unpaid) concert!
You will see I have devoted a couple of pages later on in this newsletter to the shows, where you will find press cuttings, comments, etc. There are no plans at present for any more of these one-off shows (or should that be two-off'?). Whilst we are not intending to send any proper newsletters for a while, we will endeavour to let fans know if there are going to be any shows in their area. However, as I have said, it is very, very unlikely.
Incidentally, spare a thought for DSIS member Sarah Rowntree. Sarah doesn't live in the northeast of England, so did not receive our special notification about the Newcastle gig. She did, however, hear about the show from another source, and decided to make the trek from London to Newcastle to see Mark and the boys. Because she hadn't seen our notification, she unfortunately didn't know what time the Hillbillies would be on-stage (they were actually the first band on...). So, whilst Mark and the Hillbillies were strutting their stuff, Sarah was enjoying the sights in a Newcastle pub before casually strolling along to the concert hall. It was her intention to do a brief report on the show for the benefit of fans not present, so here it is:
FEEL LIKE GOING HOME WAS EXCEPTIONAL, AS WAS SETTING ME UP. A LONG WAY TO GO TO HEAR 2 SONGS - BUT WELL WORTH IT!
(...)




(...)
ON THE NIGHT - WHICH TRACKS WERE RECORDED WHERE?
Lots of you have asked this question. I do have a list (below) which we think is correct. The problem lies in the fact that as soon as the tour was over, all the versions of the same song were put together on one tape, and so on for each song. We therefore had a complete tape of Calling Elvis, a complete tape of Walk Of Life, etc. etc. etc. When selecting the final choice for the album, only Guy kept a note of which version had been used and he can't find the note! This is therefore 'Guy's list from memory...'
Rotterdam: Calling Elvis, Walk Of Life, On Every Street, You And Your Friend, Money For Nothing, Brothers In Arms, Solid Rock and Local Hero - Wild Theme.
Nîmes: Heavy Fuel, Romeo And Juliet, Private Investigations, Your Latest Trick and The Bug.
Guy thinks he may have Your Latest Trick and On Every Street the wrong way round, but is '95 per cent sure' the list is right.
(...)
UPDATE ON WHAT THE BAND MEMBERS ARE DOING NOW
Mark: Is travelling around the USA at present, he phoned in last week and was in New Orleans. He met up with Paul Franklin in Nashville and 'did a bit of strumming', but apart from that, this visit is supposed to be strictly holiday.
John: Has been on various holidays to France, Morocco, Russia, and on a boat somewhere off the Turkish coast. He is spending a lot of time at his house in Hampshire, and is continuing with his painting. That's painting as in art, not painting as in decorating...
Alan: Having rebuilt his studio in the barn in his garden, has been writing songs. He has written the music for two television. documentaries. one of these is to be shown on Channel 4 in the not-so-distant future, and is about the World Domino Championships in Jamaica. Rivetting stuff, I'm sure... The other is a documentary on cars, but Alan didn't seem to know much about it except that it wasn't due to be shown till later in 1994.
Chris White: Now that he's got his Kawasaki bike, there's no stopping him. He has so far refrained from taking baby Alexander on the back of it, which is just as well since he came off it the other week in Edgware Road. Still, he says he feels a lot more confident now he's fallen off once. I still haven't worked that one out... Apart from terrorising London on the bike, he's looking to do another solo album.
Phil: Is touring with Pete Townsend, so if there's a gig in your area, go along and wave at him.
Guy: Has just got back from California. He, Laurie-Ann and Max spent the entire summer there, being incredibly healthy and doing lots of windsurfing. He is just about to move house so is in a bit of a muddle at the moment
Chris Whitten: Just finishing doing an album with Ian McCullogh and Johnny Marr. Doesn't know what his next project is yet.
Paul: Back to his old job as Nashville's top pedal-steel session player!
Danny: Has just bought a flat in London, and he hasn't got a phone yet, so I can't find out what he's doing till he calls me.
FACTS AND FIGURES
Lots of you have written and asked various 'tour trivia' questions, so here's a selection of answers: The band visited 22 countries on the last tour. The smallest venue capacity was Bally's, Las Vegas (4,600), and the largest was Woburn Abbey (65,000). Number of touring personnel: 9 band plus up to 100 others at any one time crew/office/caterers etc. (you should see the hotel bills!). Number of trucks: up to 43 at any one time. Total tour cost was just under £22 million!
MARK/HANK MARVIN RECORDING & TV DOCUMENTARY
Don't forget to look out for the Forty Years Of The Fender Strat documentary which is scheduled to be shown on UK TV this autumn. As yet we have no details of dates. The single Mark and Hank recorded as part of the documentary filming is set for release (UK only) on Polydor Records in October. It will be the old Shadows song Nivram (Marvin spelt backwards) c/w Wonderful Land. All proceeds will go to Nordoff Robbins Music Therapy charity.
MORE AMUSING / INTERESTING ITEMS
Lots of you wrote in saying you liked this section in the June newsletter and could we do more of the same in future newsletters. So here's another small selection, and I'll go on collecting them so it will become a regular feature.

This is a picture of the youngest member of DSIS. His name is Jack Taylor, and the picture was sent in by his dad Brian.
That's about it for now. Sorry we won't be in touch for the next few months, but I'm sure you'll survive! Thanks to everybody who has sent in cards and presents for Mark's birthday. I have got them all in a huge box for him to collect when he gets back to London.
Best wishes,